Brief Bio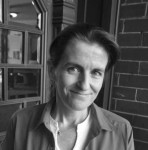 Beth Eschenfelder, (PhD, University of South Florida, 2007) is an associate professor in the Department of Communication at The University of Tampa.  Her current scholarly interests are in communication and professional ethics, specifically, within the real estate industry.  She adopted this research agenda as a result of first-hand observations of dishonest communication and deceptive promotional practices engaged in by many real estate agents.  She seeks to study the motivators for this behavior, the potential impact on clients and the industry, and the failure of current education and enforcement practices in the industry to curb unethical practices.
She studied to become a licensed Realtor to engage with others in the real estate community and to glean first hand observations of the practices being studied.  She works as a Realtor for her partner's real estate brokerage, Personal Realty Advisers.
Eschenfelder's prior research focused on interorganizational relationships between and among nonprofits, governments and communities (including businesses, neighborhoods and citizen groups), and the communicative practices these entities utilize to foster strong partnerships.
Prior to returning to the university setting, Eschenfelder worked at the City of St. Petersburg and in various nonprofit management positions.  She served in numerous community leadership positions that involved bringing diverse publics together to address pressing community problems, including business district redevelopment, neighborhood-social service zoning, park revitalization and homelessness.